CSUN Associate Head Soccer Coach Yossi Raz Makes Mark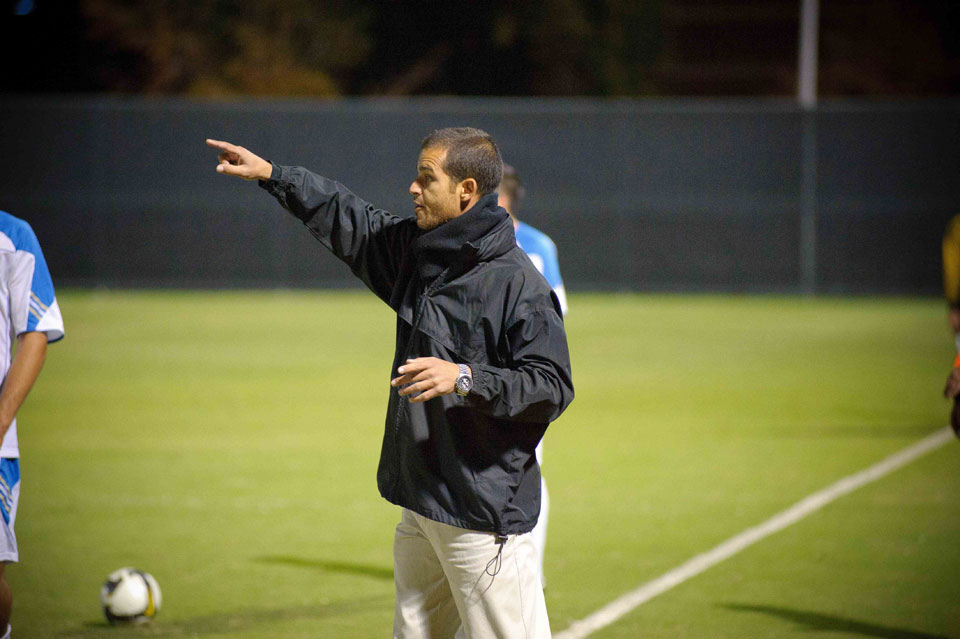 CSUN's associate head soccer coach Yossi Raz watches from the sidelines as the Matadors play UCLA. Raz was named one of the 15 top assistant soccer coaches in the country.
As the season dawned on the CSUN men's soccer team, a new assistant coach was called up to help head coach Terry Davila control what seemed to be a team that was talented but hadn't met its potential. Yossi Raz '06 (Communications), M.A. '10 (Recreation and Tourism Management), the new associate head coach, was promoted from within. He'd been a Matador since his playing days and part of the coaching staff for the previous six seasons. It was his time, and he wanted to show that the same person who took home All-Big West First Team honors every year he played could translate that success in the X and O arena. That he did, closing a great Matador season by being named one of the top 15 assistant coaches in the country by College Soccer News.
"I am very grateful that Terry gave me the opportunity as both a student-athlete and coach to help this program be successful," said Raz. "Together with the staff and team we were able to produce a really special year for the Northridge community, and earning this recognition is great for me and us."
Raz, who was recruited by Davila, is one of the most decorated soccer players in Northridge history. He earned Freshman of the Year honors and led the Matadors to three straight NCAA Tournaments from 2002 to 2004 and a second-round appearance in 2003. It's that type of soccer mind coach Davila knew he was bringing on board when he put Raz on the coaching staff. It's a move he knew would pay off.
"Yossi's passion toward anything that he is a part of is unparalleled," said coach Davila. "Our decision to change our dynamic for recruiting has done wonders for our program, and coach Raz has done an excellent job bringing in student-athletes to help us get where we are."
"My goal in life is to be the best I can be and to help those around me be the best they can be," added Raz. "For our program, we all work hard to compete for the championship in one of the nation's top conferences and to help our student-athletes reach their potential in college and as professionals."