KCSN News Wins Two Golden Mike Awards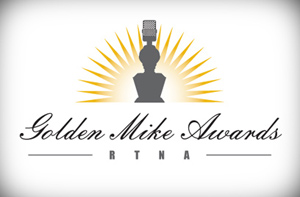 California State University Northridge's acclaimed public radio station KCSN-FM (88.5) received two "Golden Mike" awards from the Radio and Television News Association (RTNA) of Southern California earlier this year.
KCSN's news department won in the category of "Best Radio Newscast Writing" and "Best Sports Reporting" in Division B at a special ceremony held at the Universal Hilton. The winning newscast was an "Evening Update" that aired September 12, 2012.
Contributors to that show include KCSN News Director Keith S. Goldstein and five broadcast journalism students: anchor/writer Jonathan Gonzalez, health reporter Shayna Montana, sports reporter Michael Mayer, writer Devin Knight and reporter Sophia Najafinedad.
The stories included one on the U.S. Forest Service decision to resume aerial night flights to battle Southern California wildfires; a vote by the Los Angeles City Council to ban hundreds of medical marijuana dispensaries; negative campaign advertising in the presidential race; bankruptcy being declared by three cities in California; wasteful spending in the U.S. health care system; and workplace bullying.
Broadcast journalism student Daniel Magallon's in-depth report, "Basketball and Cancer," a story of high school athlete diagnosed with testicular cancer, took home the "Best Sports Reporting" honor.
Since 1987, the KCSN news department has now won a total of 61 "Golden Mike" awards, 32 regional "Edward R. Murrow" awards including four awards in the category of "Overall Excellence" and 6 "Mark Twain" awards for "Best Newscast–Over 15 Minutes "from the Radio Television Digital News Association. The KCSN News Department has also earned 12 national awards in the Society for Professional Journalists "Mark of Excellence" competition.